I grew up in northern Minnesota, 20 miles south of the Canadian border not too far from Winnipeg. My graduating class… just 39 people. Needless to say, my high school didn't have a pool or a swim team.
But, three blocks from home, there was an outdoor city pool where I swam away my summers. Sunup to sundown, sunburned skin, a quick afternoon break for orange Shasta or a bike ride to the pharmacy for sweets. It was my second home even when I got older thanks to a lifeguarding, teaching swimming lessons and managing the pool. Case in point: I took a senior pic in the pool. #bestjobever #ilooksoyoung!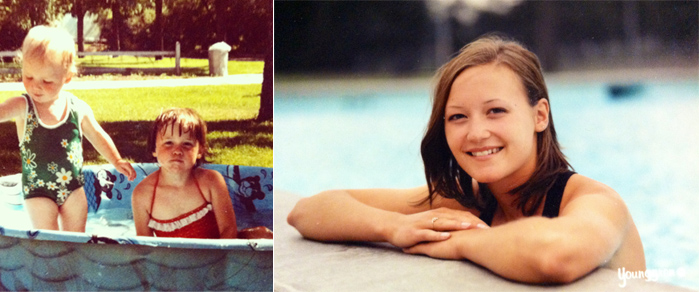 But, then swimming fell by the wayside, and other than the occasional ocean swim on vacation, I never got in the pool… until I started triathlon.
Since then, I've swam my way around Saint Paul's pools. Check 'em out…
LA Fitness // 1370 University Avenue
Pros
Convenience – it's open all day.
Price – membership is a steal (I pay about $30 a month).
Locker room sauna – my go-to during the polar vortex to warm up as well before and after swims.
Giant windows let in lots of sunshine.
Free parking.
Cons
Water temp is hit or miss (there have been swim at your own risk too hot warning signs).
Super chlorinated – I smell even after taking a shower.
It can be busy – noodle swimmers are the norm.
Inconvenient aquafit class times (6p MWTh and 9a on Saturday).
Not the cleanest.
Only four lanes.