Chisago Lakes 70.3 on Saturday was my first race of the season – and, with a shiny new PR (for Nick, too!), it was a good one! I knew if everything went well, a PR was gonna happen, but no one was more surprised than me about the sub-five(!).
PRE-RACE
Chisago is about an hour drive from our house, so Nick and I were up early (earlier than we were for Ironman Canada!) and out the door around 4:40a. We arrived with the sunrise, and following packet pick-up – and me swapping from wave five to elite – set up our transitions next to bike in/out. We milled around for a bit, talking race strategy with coach Andy and catching up with friends who were also racing. Around 6:50a, we headed to the beach for a super quick warm-up swim (maybe a minute) to shake off the butterflies.
SWIM // 34:23, 1:38/100, 2nd AG.
I was a bit apprehensive about the swim, as I've only swam open water twice this summer – the options are limited near our new place in the 'burbs – and given Chisago was my first race of the season, the buoys looked far. I also felt a little out of my league starting in the elite wave… because the elite wave!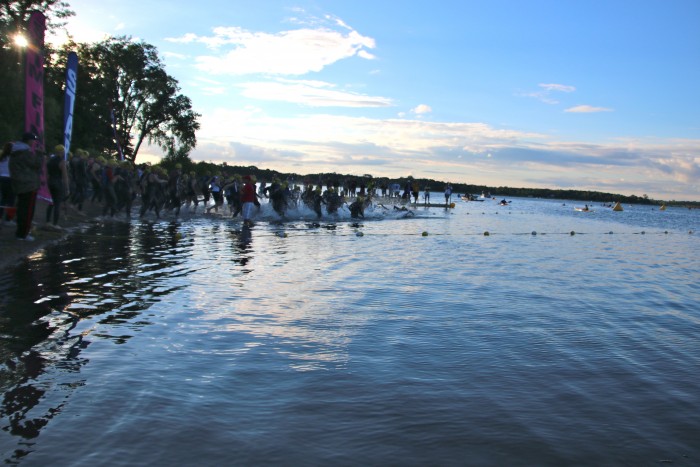 Nonetheless, the swim ended up being great and set the tone for the day. I positioned toward the right front of the beach start and more or less swam just to the left of the buoys for the clockwise one-loop triangular-shaped course. Zero issues with mass start craziness, and I quickly settled into a nice rhythm. About a quarter way in, Nick popped up to my left, and we swam stroke for stroke for a minute before he veered off. The rest of the swim was uneventful unless you count the weeds; they were out.of.control on the stretch back to shore… as in clumps so massive I had to adjust my stroke so my hands didn't get tangled in them. Gross. With about a tenth to go, I caught super triathlete Suzie Fox and kept the pace to exit the water in fourth female, just ahead of her (and ahead of Nick… ha!).
A run up the beach and a big hill, and I was in T1 (this added about a minute to my swim time). (Below, I'm in the yellow swim cap.)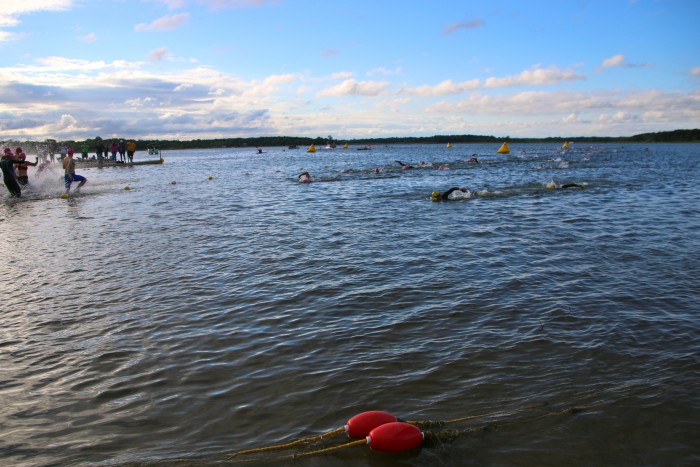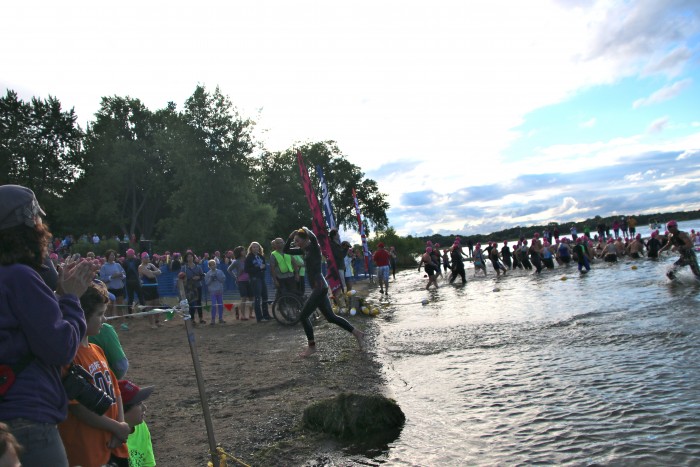 Gear: TYR nest pro goggles in smoke (brand new and no fogging!) and ROKA Maverick Elite wetsuit (no chafing!).
Nutrition: Banana around 6a (~100 kcals) and one salted caramel Gu 10 minutes before go (100 kcals).